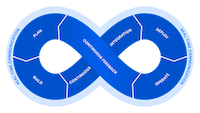 A curated list of learning resources I've used to evolve my own understanding of the principles and practices of DevOps.
Articles
Blogs
I use Feedly to subscribe to blogs. I hope RSS/Atom never dies.
Books
The first three books here are absolutely required reading.
Not DevOps but I highly regard these.
Events
Courses
Distributed teams
Podcasts
Tools
Containers
Git